I can't believe another Friday is here, it feels like last weekend just ended. I swear this month is flying by. Here's another 5QF brought to you by
Mama M
:)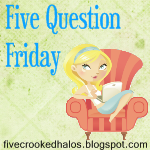 1. Have you ever visited another country?
Yes I have! I was lucky enough to be a student ambassador and travel two summers in a row. I've been to Australia and Europe. I loved both trips very much, I learned alot and matured with those experiences. I would love to travel back to both one day!!!
2. Where is the strangest place you have ever been?
Ya know, I can't really think of a strange place...I guess that could be a good thing HaHa
3. What is your favorite season?
I prefer fall, not too hot and not too cold...the leaves are changing and I love Thanksgiving, to Give Thanks for what we have
4. What one song will always cheer you up?
Alot of songs right now cheer me up, they give me hope...I'm in a situation where I need that right now. There are a few songs I'm listening to because the lyrics really hit the spot, they speak to me!
5. What Disney character do you resemble most?
Hhhmmmm, I have no idea. There are tons of Disney Characters out there, too many options! I love them all :)
---------------------------------------------------------------
And then there's the Friday Fives with
Just Me and My Life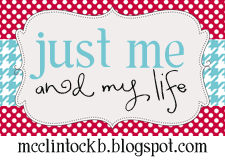 FIVE FAVORITE WEBSITES
~Of course I love
Blogger
...I'm here daily catching up on my blog roll and
tryin
g to get my blog caught up!
~ Then there's the stalker friendly site,
Facebook
:) A place where you can be friends with the people you really hated in high school and "stalk" them and a place where you can also learn some strange habits of your true friends ;)
~
Craigslist!
I'm always there either looking for some good free stuff, checking out job listings, or searching for some cheap items I can turn into masterpieces!
~
Inspirational Blogs,
Yes
YOU
! I love to read certain blogs, ones that give me inspiration in my daily life. Whether it be crafting, religion, families, home decor...I'm always stopping by these sites to get my daily dose of hope ("one day I'll have that").
~
Cafemom.
I haven't visited this site in a while, but I'm going to get back into it! It's a great place to meet new friends and learn more about the abilities and disabilities of your child...maybe even learn more about hobbies etc. It's a fun place to be!