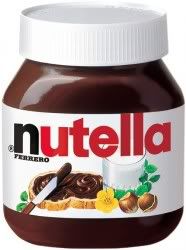 Nutella :) I love this hazelnut yummy greatness! I mostly eat in on my strawberries because I have yet to venture out. Anyone know of other foods I could mix with Nutella?
Cookie Cake :) If you know me, then you know I haven't gone a year without having a cookie cake for my birthday. They closed for a couple months here and I traveled 2 hours WITH A GROUPON to get my cookie cake for my birthday!! It's also an addiction...
Salads :) I've recently become obsessed with eating salads. The best part, super healthy (unlike the last 2) I could go for a salad now...California Dreaming's or Ruby Tuesdays' salads are calling my name

Subway :) I love anything and everything from Subway, so we'll just leave it at that. It may count as more than 5 here because of the numerous options. Let's not forget their cookies!
Hamburger and Beans :) My mom has this recipe down; maple syrup, little bit of ketchup, little bit of mustard, mix it in with the beans and cooked hamburger and you've got the lunch and dinner of Champions. I know it sounds weird, but it's delish!
Tomorrow: 5 Books